English and Reading
Subject Intent: In English, we have pathways that students are placed on, dependent on their cognitive, social and emotional needs. Each pathway has its own personalised learning journey. However, our overarching intent for English is that our students develop as functional communicators for life; as readers, writers and speakers. In addition, the English department puts a key emphasis on reading also, and we have core texts that form the basis of the topics taught. In using this approach to our curriculum, our intent is that students develop their reading ability so that they are able to engage with the wider world and to foster a lifelong love of reading for pleasure.
Subject Staff: Subject Lead of English: J. Overbury, Teachers: Kelly Tuft, Angela Bird, Ruth Stephenson and Sue Williams.
Subject Overview: The English curriculum follows the National Curriculum. Our students are placed on a personalised learning pathway based on their individual needs. The curriculum has been designed so that knowledge and skills are spiralised and built into challenge with each academic year. Alongside the curriculum content, students enjoy a class reader that is read for pleasure.
Key Stage 3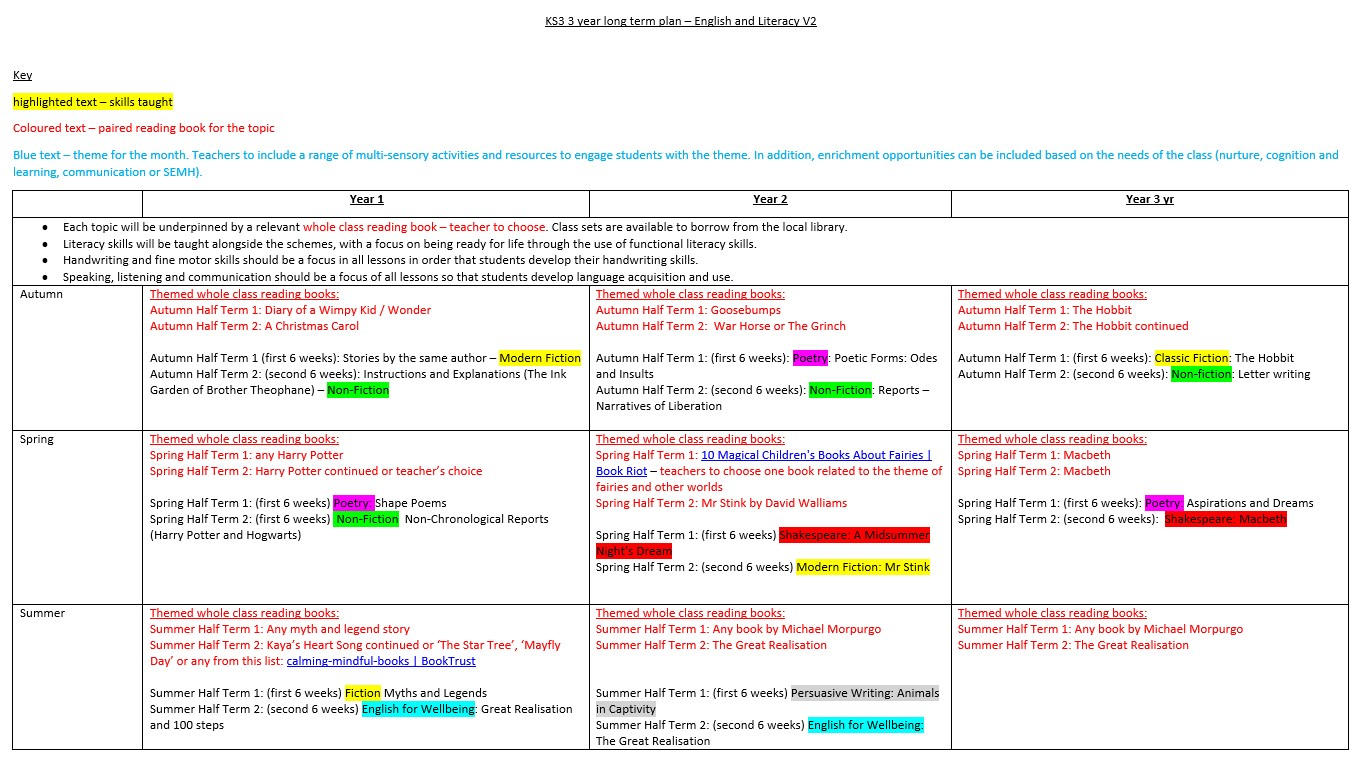 Key Stage 4
Key Stage 4

Exam Board – iGCSE / Functional Skills Entry level 1 / 2 or Edexcel Functional Skills Entry Level 1, 2 or 3

Year

Autumn

1

Autumn2

Spring

1

Spring

2

Summer

1

Summer

2

10

Developing Skills: SPAG

Exam live papers

Reading non-fiction

Speaking and Listening

Writing non-fiction

Consolidation of skills before moving on to next qualification

11

Practice papers and Speaking and Listening

Non-fiction writing revision

Revision and Live exams

Exam retakes if necessary

N/A

N/A
Key Stage 5
Key Stage 5 English
Within 6th form English we aim to embed key functional skills so that students are prepared for challenges related to English in day to day life.
There are a number of pathways that our 6th Form students will have the opportunity to study:

Life and Living Skills
This suite of Foundation Learning qualifications has been developed to offer a range of 'bite-sized' units which learners can use to build flexible and relevant qualifications, geared to their individual interests and skills. It has been designed for both young people and mature learners and contains a wide range of engaging skill areas. These qualifications contain units suitable for learners working at different stages of the Entry level continuum (E1-E3). The qualifications provide the opportunity for learners to build an individualised, rich and varied skill set around a wide range of skill areas that will suit individual learner's skills and interests and development for later life.
Modules include:

ASDAN : English Short Course
The English Short Course accredits up to 60 hours of English language and literature activities. The challenges can be seen as preparation for coursework, as well as assessment opportunities. They can also underpin study of pre-release material and preparation for some elements of GCSE English language and literature examinations.
The flexibility of ASDAN's Short Courses means that they can be carried out in a variety of settings, over a time period to suit the individual student. Challenge descriptions can be interpreted and adapted according to the situation.
Because Short Courses are multi-level, the focus is on completing challenges and skills development according to individual ability, rather than attainment at a specific level.
The Short Course is split into six modules: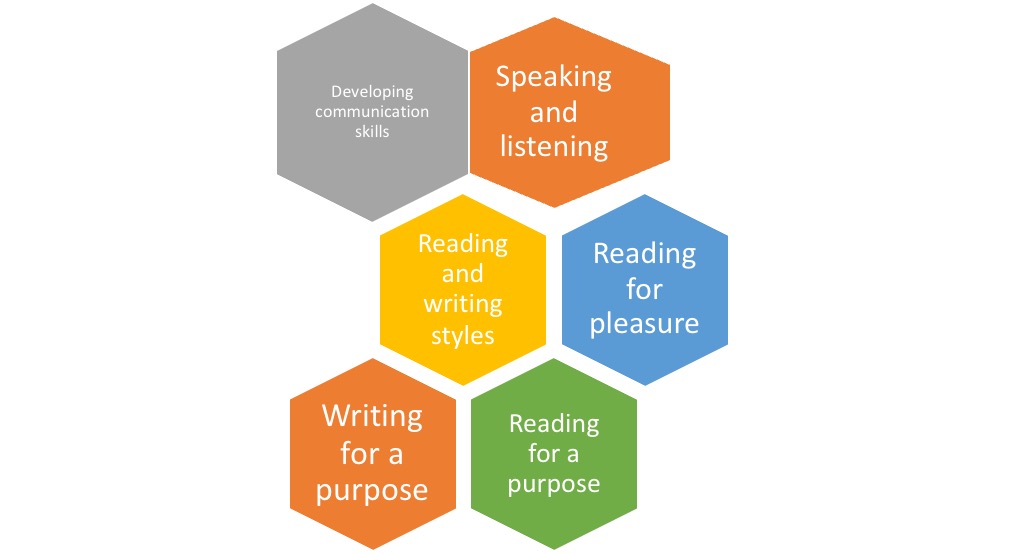 Each student will complete work across different units to give them a range of skills they can use later in adult life.
For more info click here --- ASDAN | English Short Course
Functional Skills Level 1 and 2
Functional Skills qualifications should provide reliable evidence of a student's achievements against demanding content that is relevant to the workplace.
They offer the students chance to demonstrate an underpinning knowledge as well as their ability to apply English in different contexts.
They provide a foundation for progression into employment or further technical education and develop skills for everyday life.
A key aim for Functional Skills English is that they should enable the student to develop confidence and fluency in, and a positive attitude towards, English. Students should be able to demonstrate their competence in English by using it in real world situations as well as demonstrating a sound grasp of basic English knowledge and skills.
The purpose of Functional Skills English for Level 1 and Level 2 is a qualification for work, study and life. Achievement of the qualification demonstrates the ability at an appropriate level to read, write, speak, listen and communicate in English, and to apply these skills effectively to a range of purposes in the workplace and in other real-life situations.
The main components of functional skills English are:

For more information click here ----- > Subject content functional skills: English (publishing.service.gov.uk)
Reading
Reading and Communication Skills at Hednesford Valley High School
Reading is fundamental to education and our desire to develop a lifelong love of learning in students. It is also a key skill that will support our students throughout their lives in education, work and daily tasks. It is therefore the ambition at Hednesford Valley High School that all students leave with the ability to read, regardless of their needs, previous experience and background. We fully support the DfE's reading framework (see reading list below) and have adapted key areas to ensure reading throughout school:
The implementation of a systematic synthetic phonics (SSP) reading programme to support learners

The introduction of a Reading Lead to oversee the school's Reading Strategy across the school. This is Mrs Overbury, our Head of English.

The introduction of a Phonics Lead to oversee the Phonics Programme. This is Miss Bird, our English Teacher.

Teachers and support staff are trained in phonics to ensure consistent application and language and practice throughout the curriculum.

The development of a Reading Strategy to support the school's aim.

Promoting a culture of reading throughout school, where all subjects take into account the reading texts, subject specific language and enable opportunities to support reading throughout their curriculum plans.
Read Write Inc. and Fresh Start

The preferred SSP reading programme for Hednesford Valley High School is Read, Write Inc. The main reason for this are:
It is an DfE validated SSP reading programme, which ensures it has met the DfE's criteria for an effective programme.

Our main feeder primary currently uses the same programme. Through collaboration, this ensures a streamlined transition and consistency of approach and application.

There is an alternative programme "Fresh Start" that incorporates SSP with age-appropriate material.
We agree with the DfE's understanding that for a student to become a good reader, it is not just the ability to decode words, but also to comprehend words. At Hednesford Valley High School we provide many opportunities for students to further develop their language comprehension. This is across all pathways of learners and beyond.
Staff are to be trained in Makaton to promote communication with identified students.

In English lessons there are opportunities to read independently and for pleasure.
Some links for your information:
The reading framework (publishing.service.gov.uk)
Choosing a phonics teaching programme - GOV.UK (www.gov.uk)
Accelerated Reading - Renaissance - Log In (renaissance-go.com)
Phonics - a Parent's Guide
At Hednesford Valley High School we use the Read Write Inc. phonics programme.
Read Write Inc. is a popular phonics scheme. Like all phonics schemes, it teaches children the sounds in English, the letters that represent them, and how to form the letters when writing. Read Write Inc. Phonics includes reading books written using only the letters they have learnt at each level (and a small number of separately taught tricky words). The children will quickly feel confident and successful.
Read Write Inc provide lots of free resources to support your child's learning, all of which you can use at home.